How well do you know the growing needs of your business? How will you hand on or exit your business to a successor?
For most, these are difficult questions to answer because we are too busy keeping up with day-to-day needs. However, 'failing to plan is planning to fail'. Having built and run a successful business it is essential to plan your exit ready for when you want to execute it. An effective Business Plan will lead to the successful exit of the owner or management team and may take time to enact and build, hence building it into the the operational business planning process is essential – Start With The End In Mind!
In rural industries, business planning and evaluation has many benefits:
Discover the strengths, weaknesses and opportunities for your business
Ensure that your business takes advantage of the evolving economic and technological environments
Assist with financing needs
Allow you to prioritise short- and long-term growth strategies
Business planning brings together the physical, financial and human resources needed to operate the business and examines the costs, risks and potential rewards from the enterprise.
The formal outcome of business planning is a written business plan, which provides clarity and focus for a business. Clearly articulating a business plan enables a producer and others, such as bank managers, to consider the business objectively.
A business plan can indicate the probability of a business succeeding and provides a yardstick for measuring success. When seeking a loan, financial support or a government grant, a well written business plan illustrates to the financier commitment and motivation.
The risk associated with not having a clear business plan is considerable. Many businesses fail within the first five years because they lack a clear objective or vision. Planning helps businesses establish this and contributes to their successful operation.
Benefits of Business Planning
Sound strategic direction and business analysis provided through a business plan: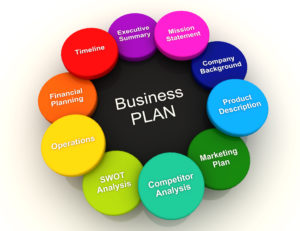 Presents clear goals and objectives with the direction on how they will be achieved
Concentrates effort and investment on important business decisions
Reveals whether it is possible to meet future needs and goals
Assists in negotiating finance at competitive rates
Provides goals and direction for the manager to help achieve improvement of profitability
Provides a clear physical and financial position of the business to enable efficient decision-making by understanding options across variable seasons and market opportunities
Builds the confidence to consider new options and predict and plan for more difficult periods
Helps to clearly communicate the nature and direction of the business when more than one person is involved in its ownership and/or management
Creating a Business Plan
Business plans vary depending on circumstances, however, there are certain key steps that need to be addressed:
1. Analyse the current situation
Analysis of the current business situation is integral in specific enterprise and property planning and requires a business owner to understand:
How the business is currently performing in terms of profitability and efficiency
The enterprise cost of production
2. Set enterprise objectives
Build from the current business position and decide the direction of the business going forward and associated objectives. This process will help determine the factors that are critical for achieving the goals of the enterprise.
3. Implement
The necessary and realistic steps or activities that are required in order to achieve the business objectives should be identified. Areas to consider include:
Identifying the steps, tasks and priorities that will move the enterprise towards the goals and objectives
Specific targets for each goal to be achieved
The procedures, labour requirements, target market specifications and financial involvement as well as the time-frames for implementation
A detailed budget that includes the likely variables in costs and returns
A back-up plan as well as possible exit strategies
An appropriate recording system to enable on-going monitoring and financial analysis to ensure targets are being met
4. Monitor progress
A key to ensuring the success of any plan is to regularly monitor progress against the stated objectives. It is important to review and update the business plan periodically, particularly as technical, financial, environmental or operational changes occur.
Planning will develop your ability to involve others in your business, which will gain their engagement and encourage accountability and ownership of responsibilities. When you establish routines to meet with your people and manage the performance of your business, you will be able to identify issues very early and encourage innovative solutions, adaptability and agility to become a resilient business that is truly sustainable. Regularly monitoring, reviewing and updating your plans will keep your business thriving.
AAA Consulting's resources are designed to equip their business partners with the tools to grow their business. We understand that putting pen to paper can seem like a daunting process, so our team of specialists are available to help you through the process by guiding, coaching and sharing expertise.
Access the full range of business planning and evaluation tools provided by AAA Consulting via your personal Member Dashboard.
Succession Planning
Succession or exit planning has been identified by small/medium enterprise operators as one of the key issues for business success in various surveys over the last 15 years.
AAA Consulting has developed a full product package relating to succession or exit strategies, to assist clients in small/medium enterprises. The AAA Consulting package includes informative articles and resources related to succession planning.
A Strengths-Weaknesses-Opportunities-Threats (SWOT) analysis of succession planning helps you assess your options. Questionnaires extract key information from owners, directors, management teams and team members to enable informed decision-making. The results will identify areas requiring strategic or corrective planning.
Keeping it in the Family – or Not!
Succession is often not an easy transition. Issues can arise from the aspirations of family members in the business to own and/or manage the business, or possibly for a whole generation not to be interested in direct involvement. Ownership and management of the business should be considered separately. The outgoing party often needs assurance that their hard work and life investment will be continued. Some confronting questions need to be answered and the right successor/s with the necessary attitude and skills need to be identified to sustain the business and the responsibilities that this entails.
Family involvement in the family businesses might be required to to skip a generation if no family member is suitable or available for the task. In that situation the family might decide to bring in an outside manager while a member of the following generation gap is trained to run the business in the future.
Financial Considerations
The financial needs of the owner/s following transition is often a major influence on the nature of the succession. Some owners require a major cash payment from the sale of the business for their retirement while others may desire a continued income as a shareholder or other interested party. Satisfying these requirements could entail family members having to raise capital themselves, involve external investors as shareholders in the business, or sell the entity as a whole. Each option would have a major impact on the future of any family members in the business.
Family Charters and Governance
Such concerns can generate other questions, for example, whether a Family Charter or Constitution should be established. Many family businesses around Australia have these. Where the family is not directly involved in the management of the business, this type of agreement gives the family a formal input to business matters. There is also the option of a Family Council which is completely separate to the Board of Directors, although there may be some common members. The Family Council is concerned with issues relating to the family. One of the family's key investments would be the shares held by the family in the family company.
Job Role Succession
Succession planning does not relate only to the retirement of a CEO or an owner. Succession is a consideration for every position within a business and requires appropriate staff training, team development and planning for the future within the business.
The AAA Consulting resource package can help you develop your preferred succession strategy within the business. We strongly advise that you seek legal advice to finalise your proposed succession plan.
It is never too early to commence succession planning. A succession plan should be ready to implement at least two years prior to the transition taking place. This will allow time to frame the structure of the business for the future; ensure that appropriate training and development can be completed by the successor; and document the corporate knowledge held by the present owner/s.
Contact our consultants today for a discussion and introduction to our succession planning partners. AAA Consulting has selected knowledgeable legal and accounting professionals who have extensive experience in rural and business succession planning, to bring you the security of knowing that your plans will be fulfilled.