AAA Consulting was established in 2019 as a result of our 20 years as experienced finance brokers across Rural, Business and Household finance solutions. Compliance is a priority for many organisations across all industry types and being able to physically invest the energy and constant changes are becoming an expensive and logistical headache for many business owners. As technology brings us closer and closer together, overcoming physical barriers of location and ultimately cost, is enabling all business owners to invest in a timely & cost-effective flexible training model.
Carry on Working
People's economic and personal lives are becoming increasingly difficult to separate, and even if compliance dictates, only a tiny percentage can afford to take time off work, plus; the travel costs, the accommodation costs and be away from their family for an extended period of time. Most people have at least a handful of economic commitments that must be met at the end of every week or month to sustain what they have already worked so hard to achieve.
Ongoing financial commitments range from priority costs like mortgage, rent, loans, suppliers, taxes, distribution, credit card, and vehicle payments, to smaller costs that play an essential part in our overall sense of wellbeing, such as; gym memberships or the price of a few cups of coffee with a best friend. In other words, despite having ambitions well within our capabilities, many of us cannot afford to pursue them on a full-time basis, hence our reluctance to be removed "from the tools", because business owners are also income providers for themselves and those they employ.
But with online courses, business owners and employees alike can balance their training with part-time or full-time work. Online courses are often structured in the same way as programs at brick-and-mortar facilities, with a set amount of modules to be completed for certification. All the training modules are available online, meaning you can fit your course work around work and personal commitments and complete the training from anywhere (at least anywhere with an internet connection).
Family Commitments
While many people would love to spend the time on training that corporate governance demands, family commitments (which can often be greater than financial) often deter business owners & employee's from being able to invest the amount of time needed to attend the training centres. Being away from home for extended periods of time simply isn't possible for anyone with young children or newborn babies. For others, caring for elderly or sick relatives or acting as a legal guardian takes up the majority of their time, and there is no room for manoeuvre when it comes to making sure someone's needs are always met.
Again, this is where the flexibility of online training is making it easier for businesses to meet with government and industry standards, as they can finally get the right work-life balance. A study about the main benefits of distance learning reported: "Having that flexibility was key. Just having extra time in one direction or the other can really make a difference."
Save Money
Studying online is a great way to save money on training fees and can often cut out many other costs associated with attending courses at a bricks-and-mortar institution. Measuring the savings you can expect vary depending on many contributing factors; What the training course is to where is it? Where are you travelling from? How are you getting there? What will happen to your business in your absence? Costs for extra cover? Production cycles being impacted? Lost opportunity costs? There are many escalating costs to factor into the attendance of offsite training courses. Whatever your business, accreditation is important and accredited courses generally cost more but return a higher standard of teaching, better learning resources, and other vital parts of the programme, such as industry recognised certification.
There are plenty of other ways distance training cuts back on costs. Firstly, if you have a young family, studying at home means you won't have to pay as much in childcare costs. Secondly, distance training means you will not have to travel back and forth from home to the training institute, course dependent this could be multiple times before becoming certified? And because you are working from home, those much-needed caffeine injections are practically free. This might seem like a small expense at first, but over a year, all those coffees from the facilities canteen or a nearby Starbucks soon start to mount up. At $5.50 a time, cutting back on just three medium lattes a week could save you over $858.00 a year, that's $858.00 that stays in your pocket!
Accreditation
Accreditation is a set of industry standards or benchmarks established by and for the meetings and events industry covering ethical business practice and customer service. Accreditation provides clients and business operators with a guide to industry requirements to help them plan, develop, manage, improve and document their event or conference. Accreditation also helps potential clients to identify operators who have achieved the industry standard for experience and expertise.
Benefits of being Accredited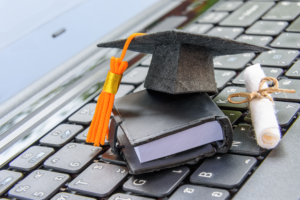 Industry Compliance
legal requirement
Credibility and proven competence
Reinforcement to clients of the industry-endorsed competency of the member
Promotion of status as an Accredited professional to the industry and the general public
Industry endorsement of the commitment to achieving high standards and ethical practice
Benchmarking of business/individual achievement within the industry
Credibility within the industry and the respect of colleagues and suppliers
Opportunities for career advancement
Certificate of Accreditation
The stigma around online training is a thing of the past where the majority of Registered Training Organisations (RTO's) have incorporated at least some elements of virtual courses into their syllabuses. This online learning revolution is excellent news for all businesses and business owners alike. It means you can access programs and become certified regardless of where you live and regardless of your professional and personal circumstances, opening up a world of exciting and potentially life-changing opportunities.